Hampir satu tahun saya menangani blog ini, tidak pernah sesibuk dua hari terakhir. Kemarin saya sampai masuk angin karena tidak sempat makan, hari ini saya baru sempat menulis artikel ini jam 10 malam yang biasanya saya tulis pagi.
Pemicu kesibukan yang luar biasa ini adalah banyaknya telepon, email dan tamu yang datang yang rata-rata menanyakan tentang Dinar dari A sampai Z. Rata-rata yang kirim email, telepon dan datang mengaku sendiri sebagai 'pemain baru' dalam Dinar ini sehingga perlu waktu agak lama bagi saya untuk bisa semaksimal mungkin menjelaskannya. Jadi mohon maaf sekali kalau email atau coment Anda belum mendapat giliran di response.
Bisa diduga yang memicu peminat baru dalam Dinar ini adalah krisis yang sedang melanda dunia saat ini. Ketika nilai saham hancur – bahkan bursannya sempat di skors, dan ketika nilai daya beli uang kertas menurun – salah satu 'pelarian' yang fitrah bagi para pemilik uang adalah ke emas yang berarti juga Dinar.
Yang hampir selalu saya sampikan adalah dalam berinvestasi, kita harus selalu melihat jangka yang cukup panjang. Jadi jangan terlalu panik dengan gonjang-ganjing sesaat. Emas/Dinar-pun apabila dilihat dalam jangka pendek juga terus bergejolak, bisa naik dan tentu juga bisa turun. Jadi yang berniat untuk mendapatkn keuntungan cepat dengan berspekulasi di emas, siap-siaplah kecewa.
Perkiraan saya sendiri (saya bisa keliru) dalam beberapa bulan kedepan harga emas akan cenderung tertekan turun dahulu sebelum naik kembali. Mengapa ? karena di Amerika akan ada pemimpin baru. Ada semacam
euphoria
di negara yang pemimpinnya baru – sesaat masyarakat akan mempunyai pengharapan yang luar biasa, seolah pemimpin barunya akan dapat mengatasi seluruh masyalah.
Setelah mereka sadar, bahwa pemimpinnya bukanlah seorang superman – saat itu masyalah yang sebelumnya dihadapi telah menjadi lebih parah kondisinya. Saat itulah emas akan kembali diburu dan tentu naik harganya.
Kapan itu terjadi ?, saya nggak berani memperkirakan waktunya karena saya tidak merasa punya ilmu masa depan. Namun ada yang berani memperkirakan sampai angka harga emas dan waktu kenaikannya seperti kata Donald Luskin,
CIO of Trend Macrolytics
seperti disiarkan CNBC malam ini sbb.:
"Invest in gold as it may hit $2,000 a troy ounce in the next 6 months. Stores of value, long-term stores bedrock of value, like gold, are going to be the best performing assets over the next couple of years".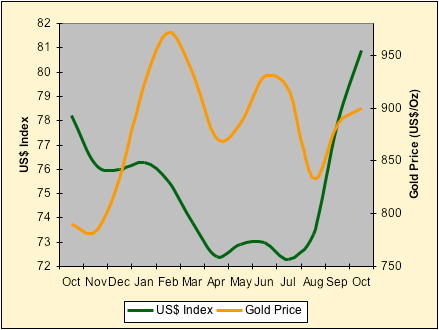 Luskin mungkin tidak mengada-ada dalam perkiraannya karena berbeda dengan tingginya harga emas Maret lalu yang disebabkan oleh rendahnya nilai US$; saat ini harga emas tinggi pada saat yang bersamaan nilai US$ juga tinggi yang ditunjukkan oleh tingginya US$ Index.
Sedangkan US$ Index lebih berpeluang turun (setelah melewati masa euphoria pemimpin baru) oleh berbagi sebab, seperti dampak dari
bailout
yang mereka lakukan baru-baru ini, pemotongan suku bungan
the fed
dan berbagai penyebab lainnya. Ketika US$ Index turun statistik selalu menunjukkan harga emas naik.
Yang saya sepaham juga dengan Luskin adalah Dinar/Emas berbeda dengan berbagi bentuk investasi lainnya karena faktor
stores of value
.
Dinar/Emas tidak pernah kehilangan daya belinya. Ketika 1 Dinar cukup untuk membeli kambing di jaman Rasulullah SAW lebih dari 1400 tahun lalu, satu Dinar-pun cukup untuk membeli kambing yang besar sekarang.
Katakanlah prediksi Luskin keliru tentang harga emas dan besuk Dinar harganya turun secara significant dari Rp 1.2 juta ke Rp 1.1 juta, Anda tetap dapat membeli kambing yang besar besuk.
Daya beli inilah yang sangat penting kita pertahankan dalam perencanaan dan pengelolaan keuangan kita.
Jadi ketika kita hijrah dari saham dan berbagai produk turunannya, juga dari deposito ke Dinar/Emas faktor proteksi nilai (daya beli) yang menjadi pertimbngan utama – bukan keuntungan sesaat yang bersifat semu.
Kemudian ada hal lain yang perlu sangat dipahami dalam mengelolaa kekayaan dalam bentuk apapun – tidak harus Dinar/Emas – yaitu larangan menimbun. Karena panjangnya bahasan ini saya akan tulis terpisah – insyaallah.
Gerai Dinar